End-game routine bounty system
At the end of the Diablo 4 2023 release date announcement, Blizzard teased a new end-game system: the Whispers of the Dead [1], which joins the Paragon Board system and Nightmare Dungeons as other end-game activities.
The system offers routine tasks to complete around Sanctuary:
We suspect the system is a way to encourage further exploration of Diablo 4's vast, open world, which is 10-20 times larger than in past Diablo games. Missions might be in the form of: "Kill these monsters in this region."
Diablo 4 SteelSeries hardware
D4 Aerox 5 Mouse
180 hr. battery life
Wireless
D4 Arctis Nova 7
38 hr. battery life
Wireless
D4 QcK Mousepad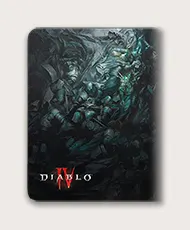 Micro-woven cloth
35.43" x 15.75"
TOP
New Whispers appear multiple time a day
Blizzard says players can expect multiple Whispers per day [2], which will pop up on the map. These are optional, but, given the rewards, probably worth the effort.
Whispers of the Dead rewards
Once an objective is satisfied, players are rewarded with:
Grim Favors are a form of currency that can be exchanged at the Tree of Whispers. More difficult bounties reward more Grim Favors, and when a player acquires 10 of them, the favors can be traded for items. Blizzard previously mentioned the ones below, although this list could change before launch:
TOP
Trending Diablo books
Book of Tyrael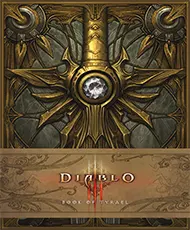 Book of Adria
Diablo Cookbook
TOP
Unlocked via a main storyline quest
As Whispers of the Dead is an end-game system, it won't be available early in the game. It's unlocked via a (currently unknown) quest while playing the campaign:
Penalty for unfulfilled whispers
If you accept a whisper (i.e., contract) with the Tree of Whispers, but fail to complete it, there will be repercussions [3]:
The negative consequences aren't known yet, but one could imagine lost gold or experience, or hitmen-style monsters sent after you.
TOP
Tree of Whispers screenshots
One of the only glimpses we have of the Tree of Whispers is a screenshot Blizzard provided at the end of a Developer Update blogpost. In it, we see what appears to be a Rogue character in front of an ancient, gnarled tree. At the base of the tree's trunk are candles and small baskets. Hanging from the tree's branches, void of any leaves, are freshly decapitated heads. A raven is perched on one of the branches, perhaps a nod to Norse mythology.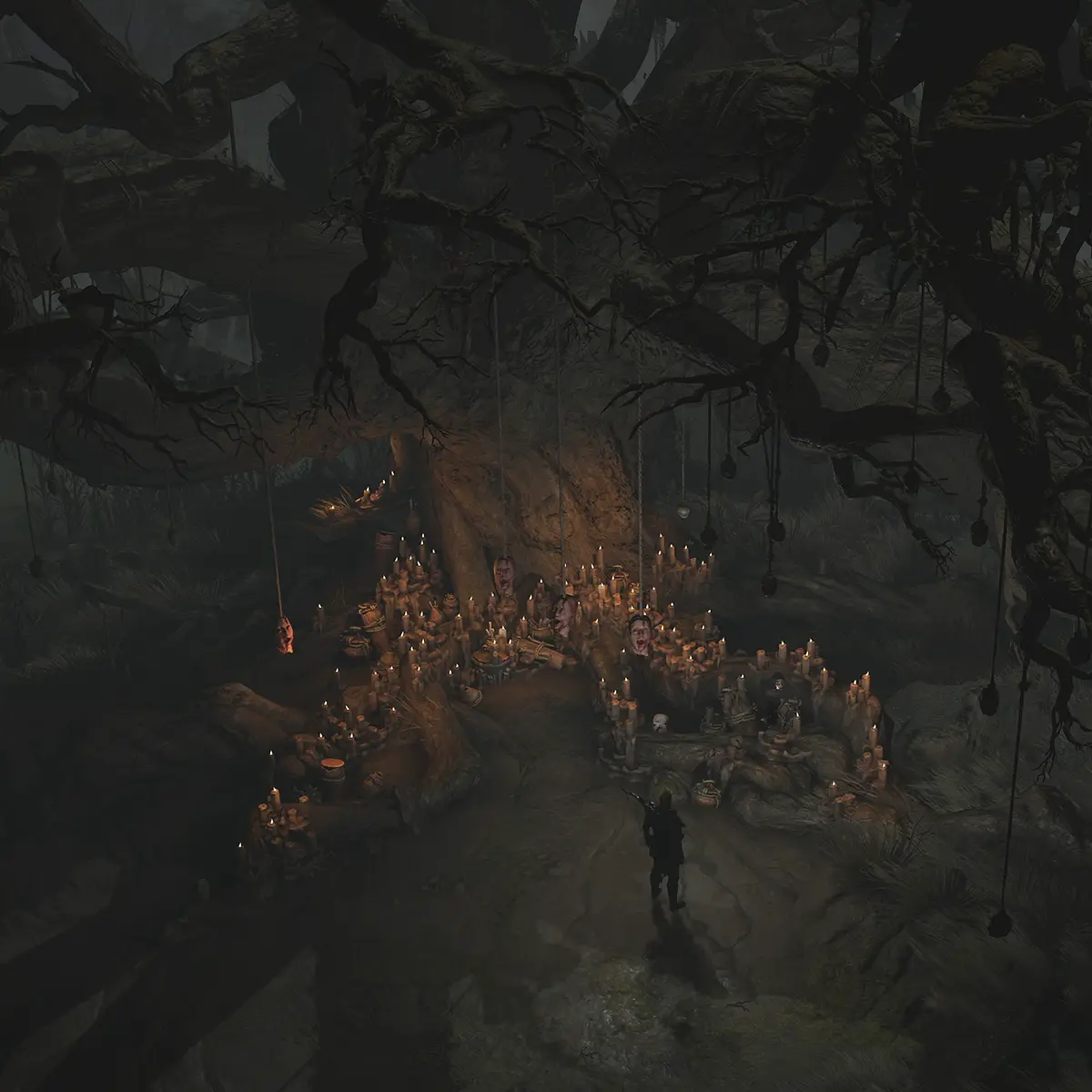 In a later blogpost, announcing the start of the end-game closed beta, Blizzard shared another screenshot of the Tree of Whispers. The tree looks largely the same, sans a few of the larger heads hanging in the middleground, but now has an eerie purple mist around it: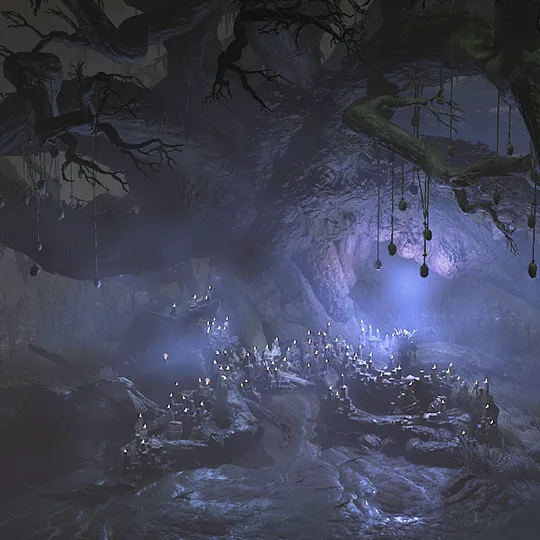 TOP
Tree of Whispers artwork
We think the below artwork, added to Blizzard's Press Center in September 2020, is of the Tree of Whispers [4]. Its above-ground roots, swamp-like setting, and corpse match with the tree seen in June 2022's in-game screenshot.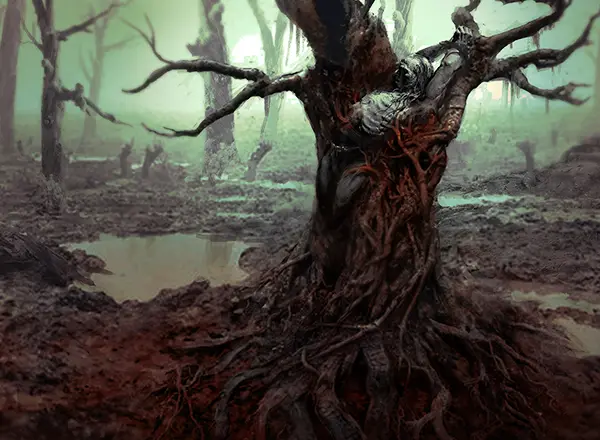 TOP
Trending hardware for Diablo 4
Alienware AW3423DW
34.2" curved
175Hz refresh
Asus ROG Ally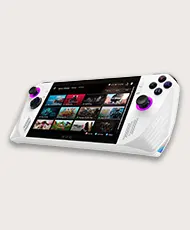 Secretlab Titan Evo
SoftWeave fabric
3 chair sizes
TOP
Changelog
| | | | |
| --- | --- | --- | --- |
| | Beta | Added image of Tree of Whispers with purple mist | |
| | Beta | Renamed guide to Whispers of the Dead | |
| | Beta | Added section on Tree of Whispers frequency | |
| | Alpha | Added section on Tree of Whispers artwork | |
| | Alpha | Added section on penalty for unfinished whispers | |
| | Alpha | Added Nightmare Sigils as a Tree of Whispers reward | |
| | Alpha | Published original | |