+[6.0-25.0%] Fire Resistance
+[6.0-25.0%] Shadow Resistance
+[10.0-18.0%] All Stats [

+10-18

]
+[3.2-6.0%]% Lucky Hit Chance
+[14.0-21.0%] Critical Strike Damage
+[14.0-28.0%] Overpower Damage
If a Core Skill hits

5

or more enemies, [20.0-40.0%] of the Resource cost is refunded.
Mother's Embrace lore
"Every tome, every scroll, every book in this temple produces the same answer. The only being willing to stand against the Eternal Conflict, against the Prime Evils, was Lilith."

Elias
TOP
Diablo 4 SteelSeries hardware
D4 Aerox 5 Mouse
180 hr. battery life
Wireless
D4 Arctis Nova 7
38 hr. battery life
Wireless
D4 QcK Mousepad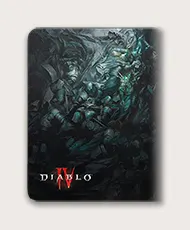 Micro-woven cloth
35.43" x 15.75"
TOP
Mother's Embrace examples
Unique, 570 Item Power
Unique Sacred, 690 Item Power
Unique Ancestral, 783 Item Power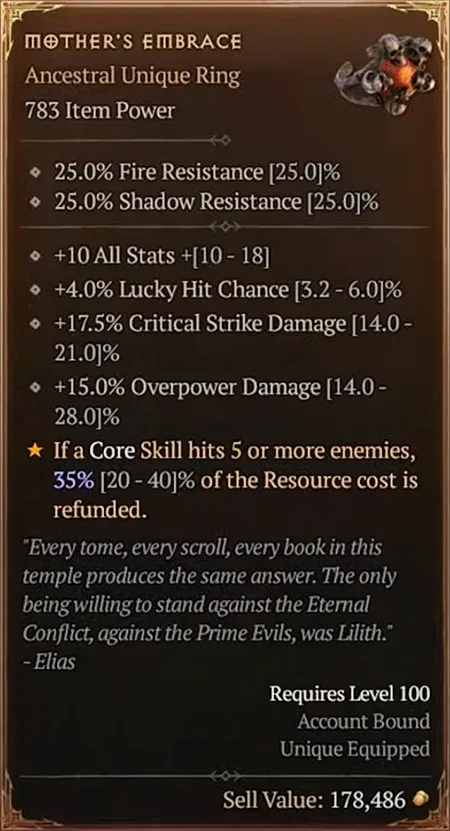 Mother's Embrace is a Unique Ring for all Classes. Regular and Sacred Mother's Embrace begin dropping in World Tier 3, while Ancestral Mother's Embrace drop in World Tier 4.
TOP
Trending Diablo books
Book of Tyrael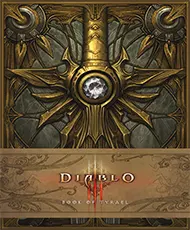 Book of Adria
Diablo Cookbook
TOP
Changelog
| | | | |
| --- | --- | --- | --- |
| | 1.0.3 | Added Item Power 690 Sacred Mother's Embrace example | |
| | Beta | Published original | |