Item mechanics
Trading
Auction house?
Diablo 4 won't include a real money or in-game money auction house. The feature was unsuccessful in Diablo 3.
9
1 min
Trading system
Most items can be traded, with the exception of Legendary and Unique items, and Legendary Aspects.
35
4 min
Currencies
Gold
Gold will have many uses, including buying items, gambling, repairing items, and trading with other players.
1
2 min
Murmuring Obols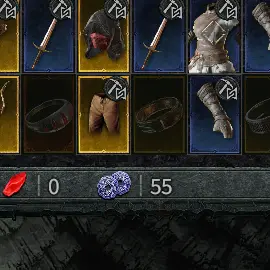 Obols are used for gambling for rare items at the Purveyor of Curiosities. They're rewards for finishing events.
1
1 min
The game's fun depends on itemization
Many players say that itemization is the "special sauce" that makes Diablo games fun, and that Diablo 2 scored the highest marks on this. Diablo 4 brings back many of the same item qualities (e.g., Normal, Magic, Rare, Set Legendary, and Unique), but tweaks their mechanics to make all of them potentially useful. Systems like Magic Find, item durability, and class specific items also return.