Bosses
Andariel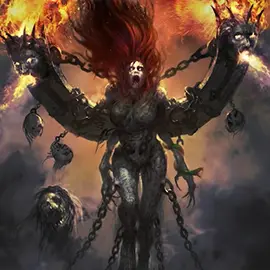 The demon of mental anguish is back from Diablo 2. She carries with her the heads of slain foes and heavy chains.
1
1 min
The Butcher
The Butcher is back, randomly appearing in Dungeons. He has a chance to drop his Butcher's Cleaver.
1
2 min
Duriel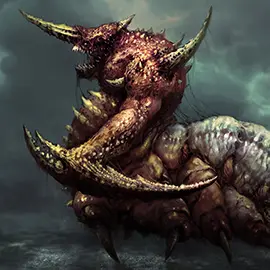 Returning from Diablo 2, the Lord of Pain burrows into the ground, releasing numerous maggots to fight.
1
2 min
World bosses
Ashava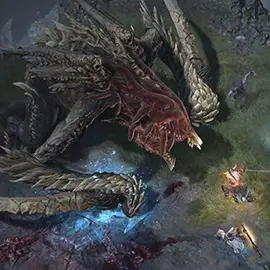 Ashava is a giant dragon that breathes poison and has wings with talons, which it tries to sweep players with.
1
2 min
Avarice
Avarice wields a spiked club in one hand and a chained loot crate in the other. It can also teleport.
2
3 min
Final bosses
Diablo
Lilith is taking center stage early in Diablo 4's storyline, but Diablo will likely appear in later down the road.
1
1 min
Lilith
The main villain of Diablo 4, Lilith, Mephisto's daughter has been resurrected to spread misery.
4
3 min
Boss mechanics
Boss stagger bar
Bosses now have a stagger bar that accumulates damage from players' Crowd Control attacks.
1
3 min
World bosses
Players can randomly come across massive bosses in the open world. These require multiple players to slay.
2
2 min
More animated and challenging bosses
Diablo 4 will feature a mix of familiar bosses (e.g., Andariel and Duriel) and newcomers (e.g., Blood Biship and Drowned Witch). Each has a few unique special attacks. Also, each boss has distinct injury and death animations that should feel rewarding to victorious player. Massive bosses, called World Bosses, randomly spawn in Sanctuary and require multiple players to kill. At launch, there will be three World Bosses.