Mount mechanics
Special mounts
Amalgam of Rage
The Amalgam of Rage is a multi-headed beast that's likely the mount of one of Diablo 4's bosses.
1
2 min
Mount types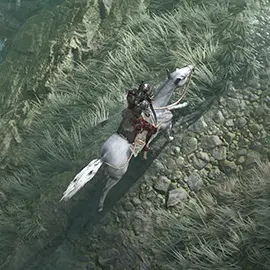 There's a host of different types of horse breeds to discover, including fiery and undead ones.
1
2 min
Traverse the open world in style
Mounts are one of the most revolutionary new features in Diablo 4. Because the playable map is now 10-20 times larger, players need a more efficient way to travel. Enter: mounts. Blizzard is doing the feature service, allowing players to equip their mounts with an array of items, like saddles and trophies, offering a wide range of mount breeds, and creating new dismount abilities for each class.